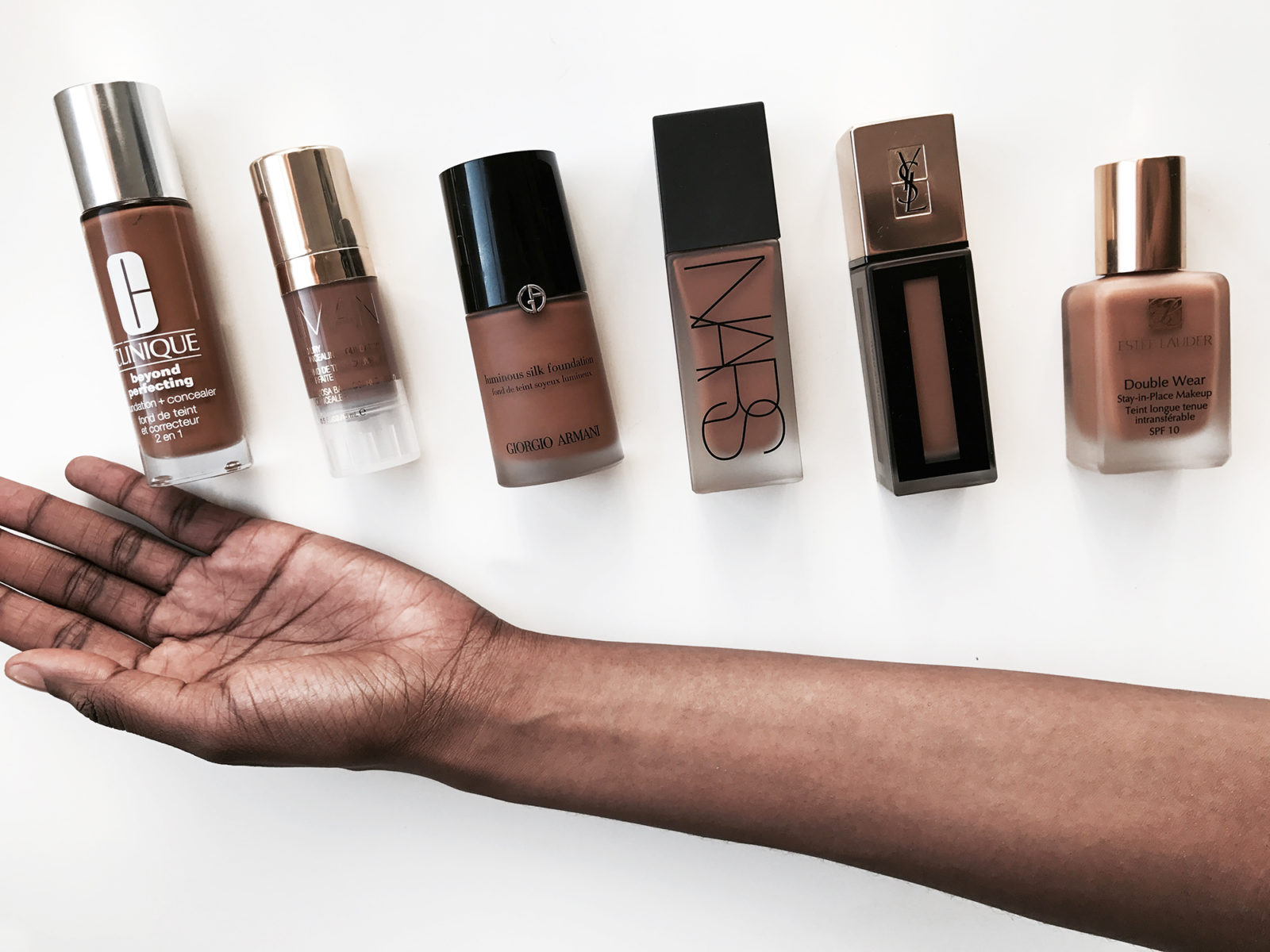 I can't believe that in 2017 I am still struggling to find the right foundation for my skin tone. Key word being "right". Now there are a handful of makeup brands out there which cater to darker skin tones,  be they the likes of Sleek cosmetics or the old-school giants such as Estee Lauder who now have groups of cosmetic brands under their umbrella. But what remains is the constant battle of finding a shade that matches my skin perfectly and complements my skin's yellow (warm) undertone. If you don't know what undertone your skin is, check out this article on Byrdie, in the mean time.
At the moment, I am alternating between the following six foundations: Estee Lauder Double Wear in 6W1 (Sandalwood), Clinique Beyond Perfecting Foundation + Concealer in #26 (Amber), NARS All Day Luminous Weightless Foundation in New Orleans (Dark 2), YSL Fusion Ink in B70 (Mocha), Giorgio Armani Luminous Silk Foundation in #10 and Iman Luxury Concealing Foundation in Earth 2. Take a look at the swatches below. I'm sure, just like I said to myself, when looking back at the photo, that the Iman (2nd) and NARS (4th) foundations look a little darker than the rest. Long story short, the Iman foundation was sent to me from the States and the NARS foundation was a colour match done in store on a cloudy day, to my regret.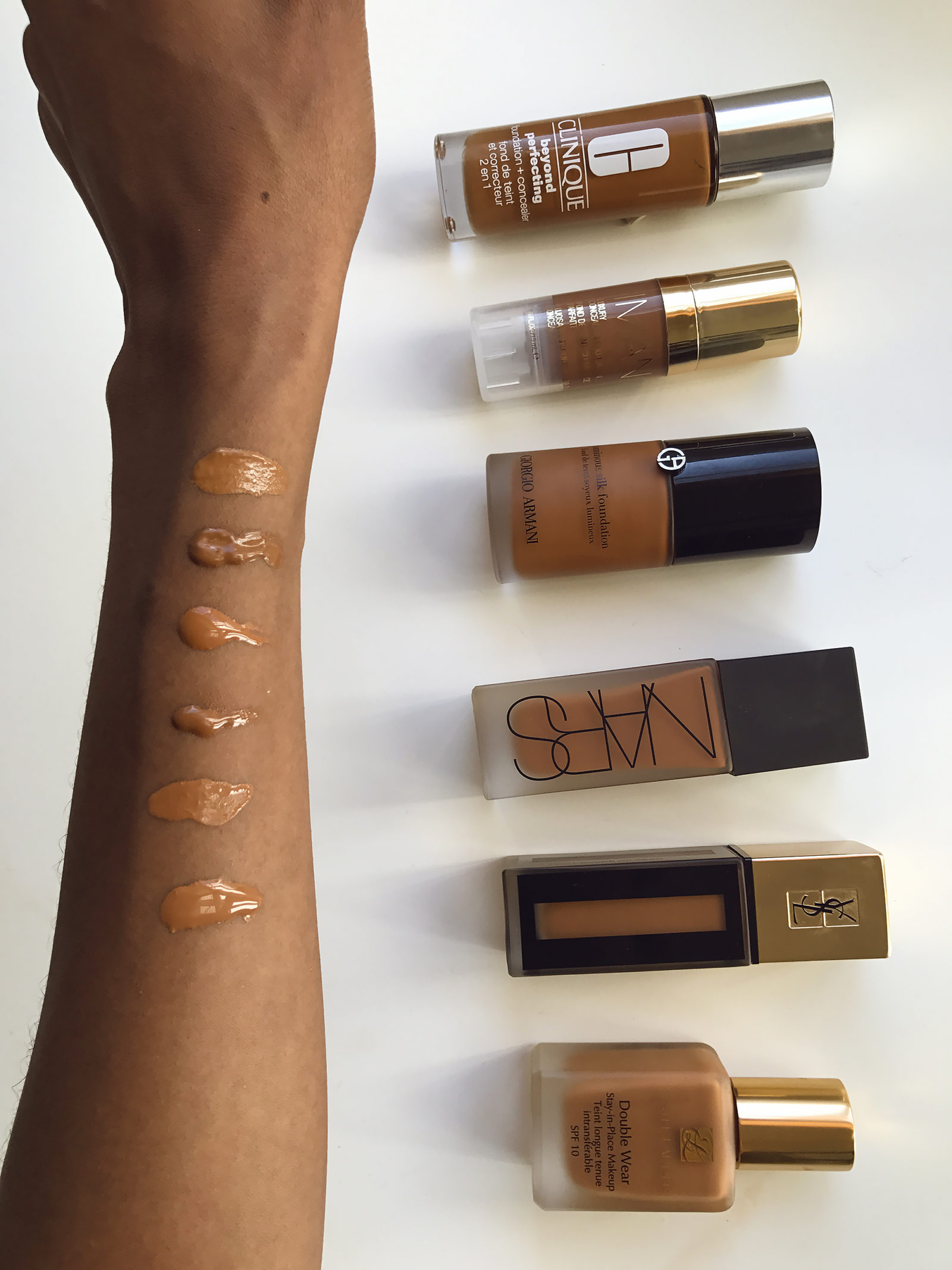 Out of all six of these, the Clinique and Estee Lauder foundations have worked the best on my face. Both offer full coverage, especially the latter, and the undertones of each one works well with my skin. I would say, though, that the Estee Lauder Sandalwood color looks about half a shade darker than the Clinique #26. Some of you may argue that half a shade is not a thing but the more I test out foundation, the more I'm starting to believe it.  There is always a gap that one brand fills and another is lacking in when it comes to darker skin shades. Correct me if I am wrong because I am in no way a professional but there is always room for more shades of foundation.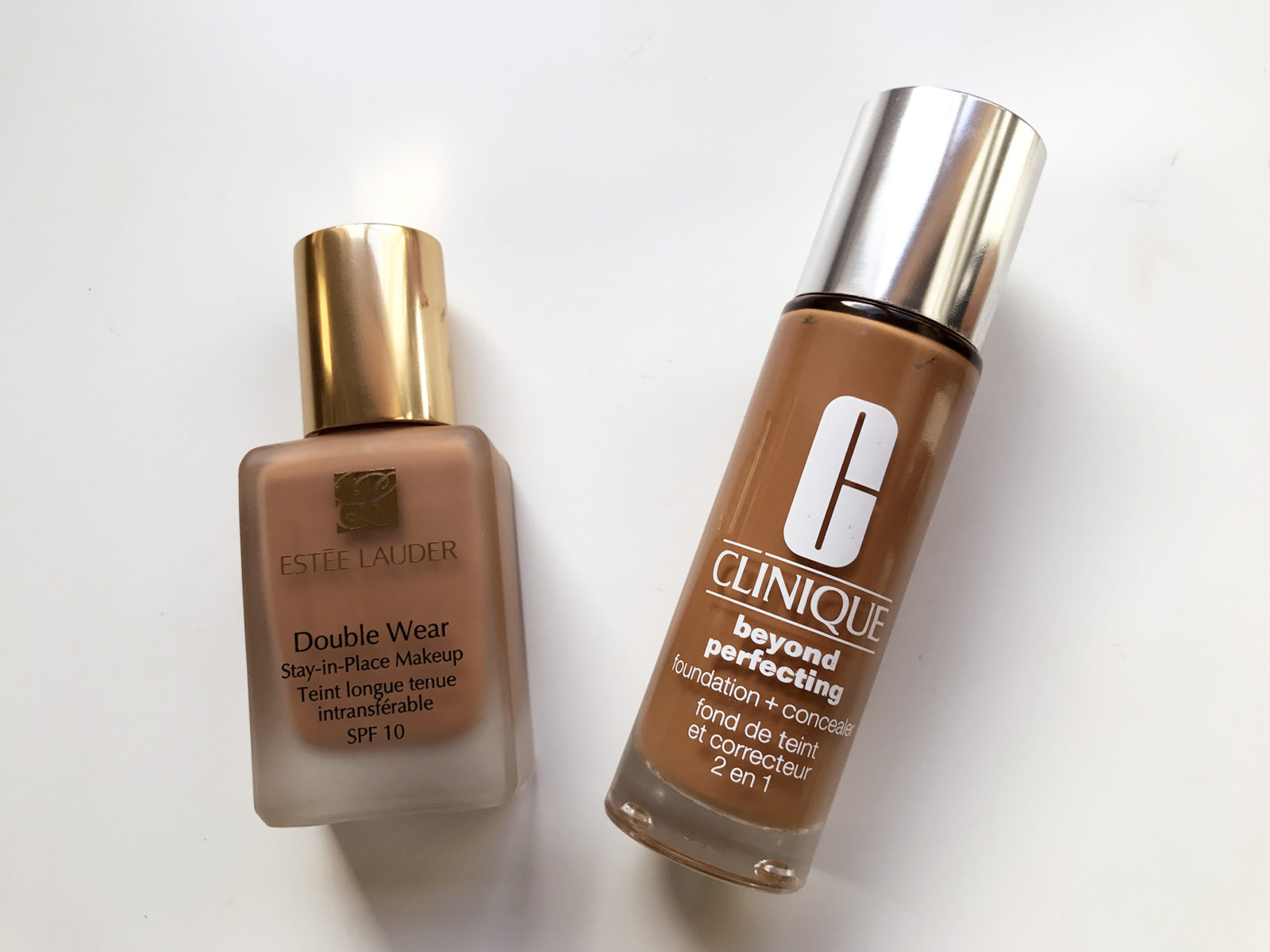 My YSL Fusion Ink foundation has a very nice matte finish to it and offers full coverage. I was a bit skeptic in the beginning about its undertone but after a few uses, it sits well on my skin. On their website, this color (B70 Mocha) falls under their list of neutral tones, meaning its neither cool nor warm. This is probably the reason why the first time around I was skeptic about looking a bit red. I'll have to keep using it a bit longer well into summer to see if there are any changes to how it sits on my face. Let's not forget we become darker under the sun over the holidays.
I'm not going to lie and I hate that this was the case with the Iman foundation, but I did not like it at all. So much so that I have only used it twice and have not touched it since. It's a heavy coverage which I persoanlly  find too much for day time wear but would be amazing for the evening, if I didn't want to touch up my foundation.  The shade I was sent is Earth 2, which is a bit darker than my skin, if you look at the swatches from the photo in the beginning. It and the NARS foundation are the two which are a bit darker than the other brands. I personally felt that it gave me a slight clay red undertone once it settled on my face. I know Iman has been a major pioneer in creating foundation for women of colour, especially after her experience as a black model in the 80s and 90s, but I am going to need to see an update in the formulas of her foundations before I give them another try.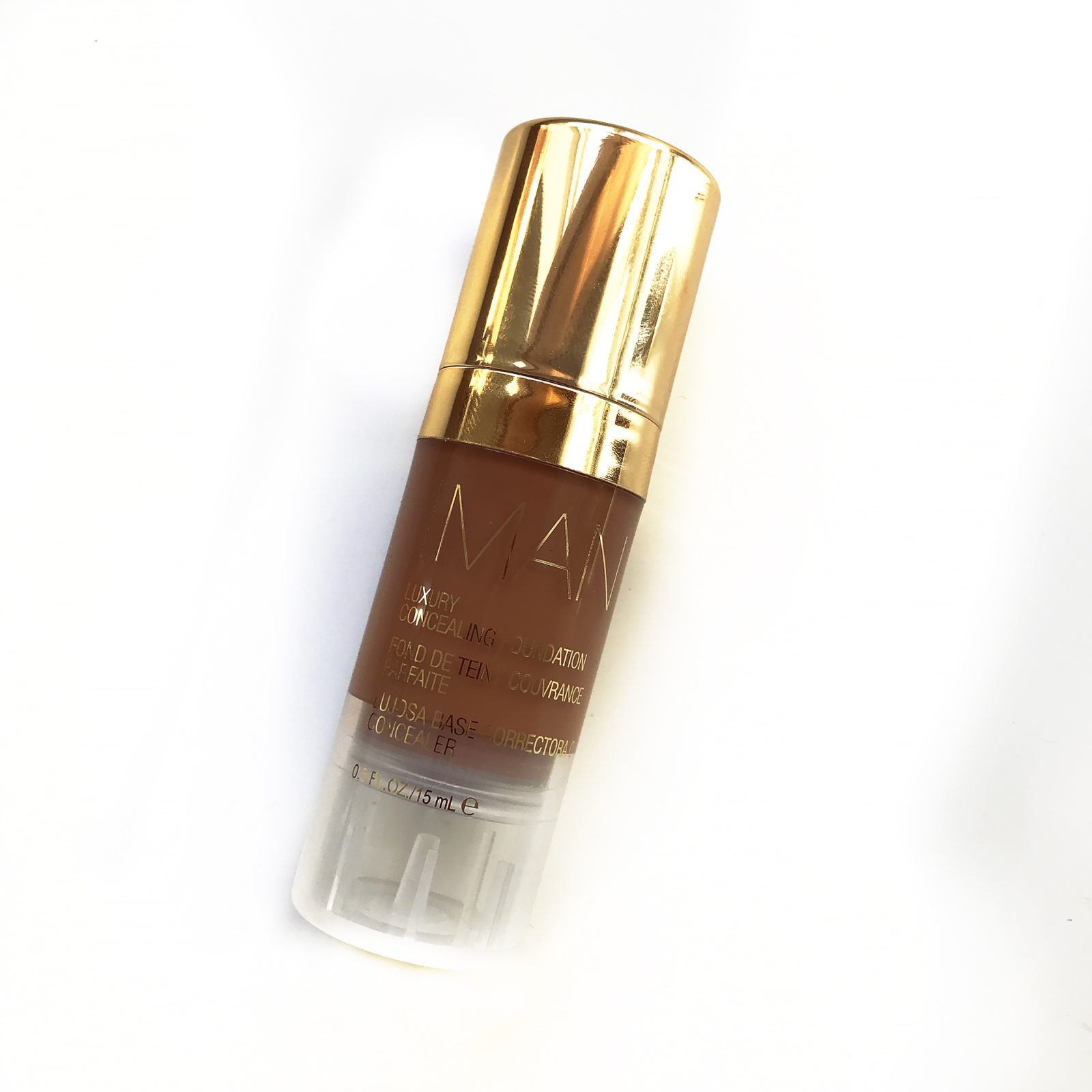 I am a huge fan of NARS and if you remember my How to Organise Your Makeup post, you can see that I have been using his foundations since 2013. Now back then I was using the Sheer Glow foundations and this is their matte Luminous Weightless Foundation. I did take a hiatus on NARS foundation for a few years when my Bobbi Brown Foundation Stick obsession was at its peak. Coming back to NARS, I think the names and shades Dark 1, Dark 2, etc have left me confused. This shade below is Dark 2 New Orleans. I remember using New Orleans in 2013 but I think the formula of the Sheer Glow foundations is not quite the same. I find this new one a bit dark and I didn't do myself a favour testing it out at their Covent Garden store on a gloomy day when the light was going down. I think I need go back and try New Guinea or Macao. All I know is, with NARS, I have used two shades at a time, mixing both together and that may be what I need to do.
Last but not least is Giorgio Armani's Luminous Silk Foundation. I honestly didn't know until less than a year ago that Armani foundations catered to darker skin tones. It wasn't until browsing through Selfridges with my friend when she pointed out a different product from Armani beauty that she liked and that is when I saw the foundations. Well, what can I say, it's not like they have their own Lupita Nyong'o fronting a beauty campaign, so can you blame me for whizzing past their beauty counter every time ? That being said, the formula has a lovely texture to it. According to their description of my shade, number 10, it has a warm undertone for deep skin. I'm still not 100% happy with the slight orange-y color it gives off. I ranted about it on my Snapchat and a few of you said the same thing too. I'll have to go back to the counter and play around with the shades again.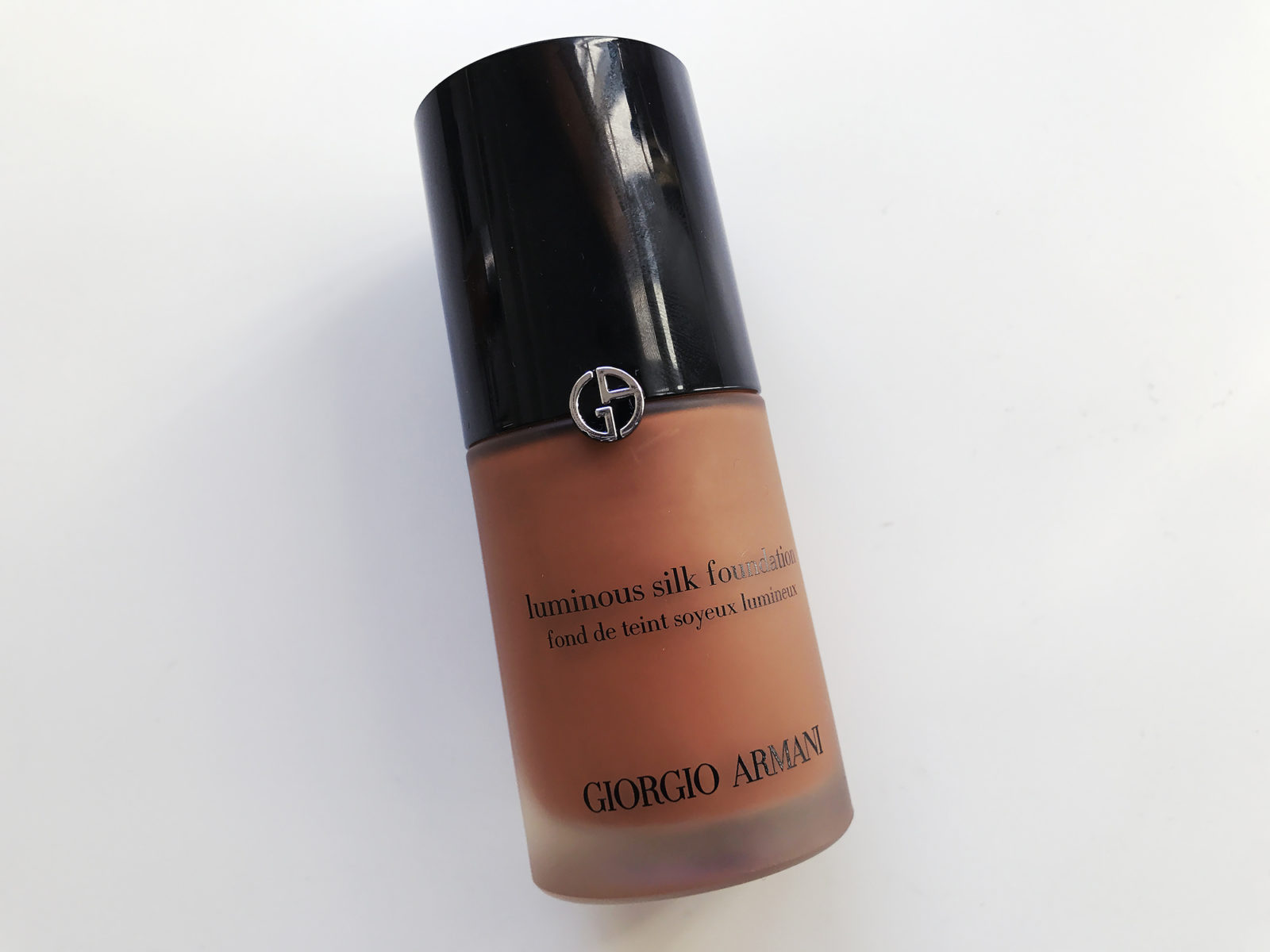 What can I say? This is just my personal opinion and experience using these foundations. Other than the Iman foundation which was sent to me, the other foundations were colour matched in store. I will keep it real, I've had to deal with busy inattentive sales assistants who left me to my own devices in testing out the foundation or the occasional one who was inexperienced with colour matching dark skin so I was pretty much handling the situation myself, as always. The journey has not been easy and if I am to branch out from my usual Lancome Teint Idole, Bobbi Brown Foundation stick and Tom Ford Foundation stick then I will have to go through the trials and tribulations of finding the right foundation for my skin tone.
SHOP MY CURRENT FOUNDATIONS BELOW: