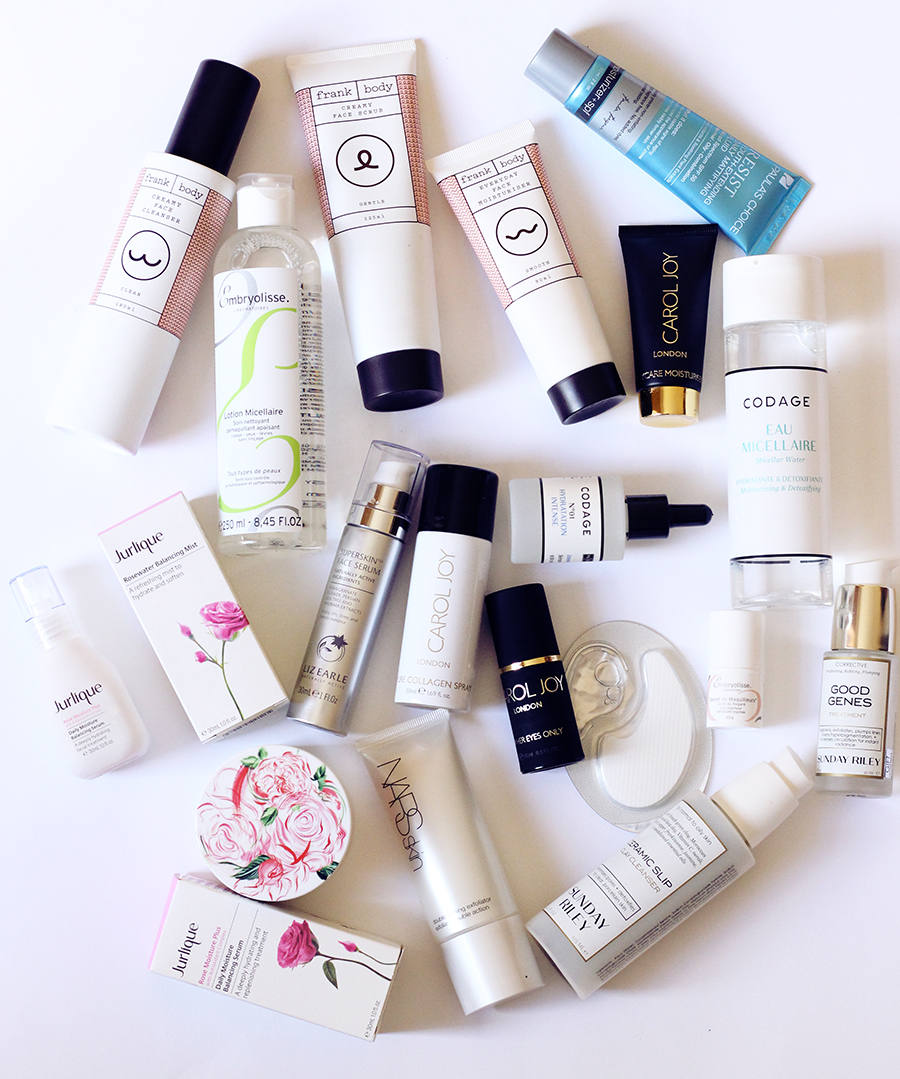 The other day I was looking at my reflection in the mirror and came to the realisation that I need to slow it down (or maybe switch it up ?) when it comes to the products I put on my face. As a blogger, or rather, as a woman, I am always looking for the next best thing for my skin. Who can say no to free samples, or in my case, free skincare ? I have amassed quite the collection that I have begun to reserve some bits for my friends' birthdays !
But there comes a time when my skin says enough is enough and I have to cut down on what products I use and how often. I literally have a chart similar to a doctor's prescription to remind myself what products to use day time and which to use night time, once a week, etc. So, I am staging my own intervention and laying out what products I have been using the past two months or so. Some will stay, others, once they run out, will not be coming back into my life for a very long time but the newbies already have a front-row seat in my medicine cabinet. Let's take a look, shall we ?!
MAKEUP REMOVERS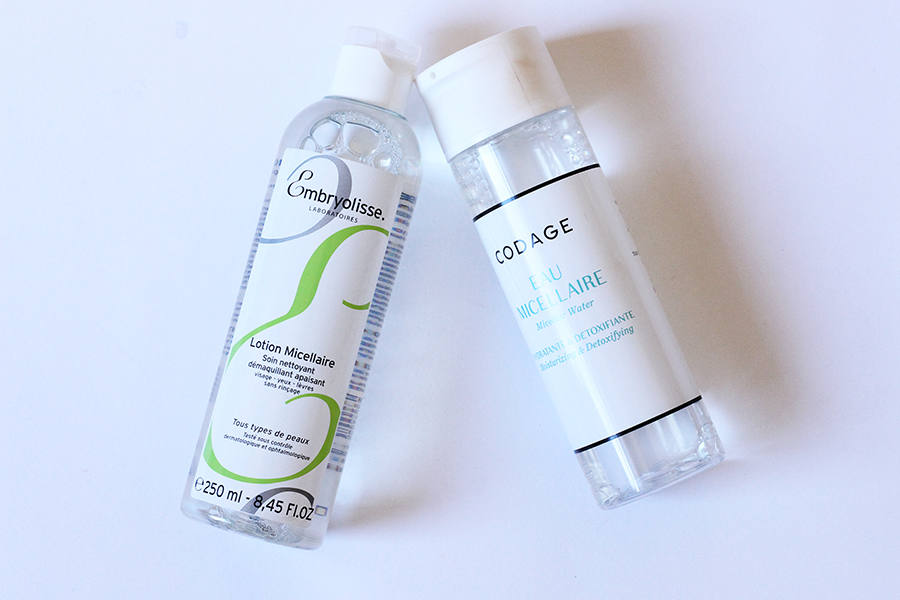 Being a loyal member of the Embryolisse club, I was pleased to receive their Lotion Micellaire, a gentle makeup remover which contains camomile, cornflower and witch-hazel water. I have also been using Codage's Eau Micellaire water to remove my war paint and let me tell you, if you are a fan of the Bioderma H2O removers, then these two are pretty much similar.
FACE WASHES / SCRUBS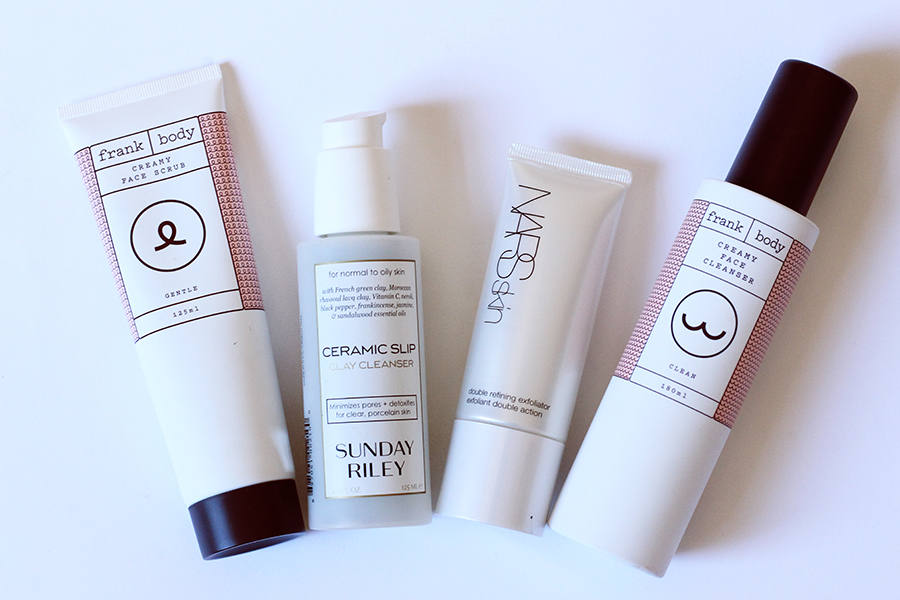 The last time I used anything with clay in it was a mask, so you can imagine how excited I was to be using a daily face wash containing clay. I was introduced to Sunday Riley at the beginning of summer and I don't think I would have ever had a chance to try this brand because the price tag for this brand varies from reasonable to you-need-to-be-employed-to-afford-this-cream. Don't worry, the Ceramic Slip Clay Cleanser will not break the bank. Not only is it thick in consistency (making it last longer) I love how it minimises pores and detoxifies my skin. I have been alternating this cleanser with NARS double refining exfoliator which does its job but for me is nothing to sing high praises about. It exfoliates, period. Now Frank Body's products, on the other hand, are … interesting. I am all for natural ingredients and the Frank Body Creamy Face Cleanser has a nice mix of coffee beans, oils and butters but the Everyday Face Moisturiser is a bit too smelly for my liking. If you plan on cuffing a bae for the winter months, DO NOT slather this on your face before you lock tongues. I'm saving Frank Body for a future hippy beach holiday instead.
SERUMS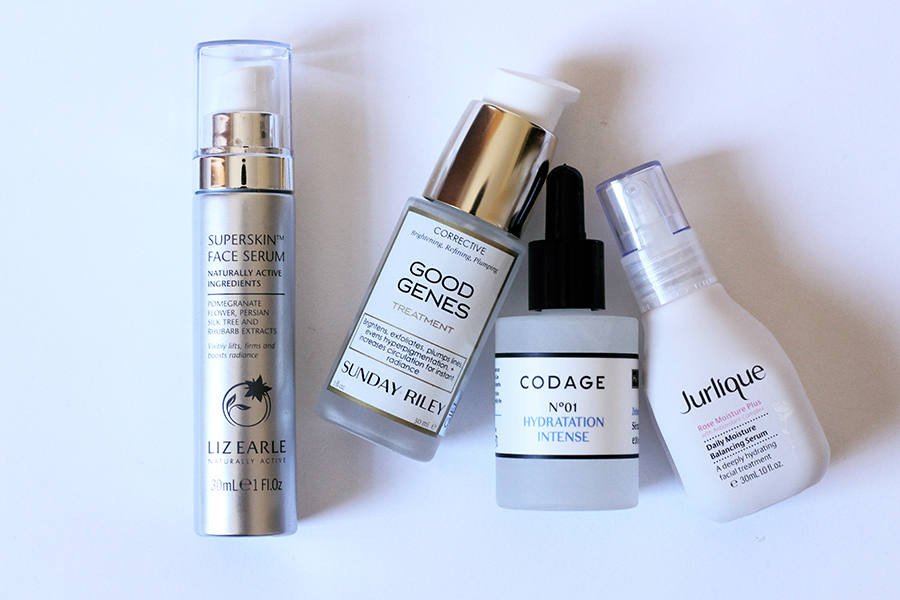 The best part about washing my face is what follows – serums. These are so essential to skincare, I believe they quench your skin more so than moisturisers. If anything, using a serum feels like giving my skin a second dose of moisture. Remember when I said Sunday Riley has some pricey products in their range? Well, the Good Genes Treatment will set you back a bit. Are there cheaper alternatives that do a similar job? Yes. Is this product worth it if I have the money? Again, yes. The Liz Earle Superskin Face Serum is much cheaper, and having only used it since the end of August, it is one I am looking forward to making a staple in my cupboard. I only just got introduced to Australian brand Jurlique but already the scent of this natural skin care brand has me ready to dump the other products and get started with their Daily Moisture Balancing Serum. Don't worry, I'm saving this brand for the end of fashion month. With Paris Fashion Week on our doorsteps, I am keen to use French brand Codage's Hydration Intense Serum. Only having tested it once, it is a quick-drying serum, so I need to experiment with it more because I am one of those people who prefer a serum I can massage into my skin.
FOR THE EYES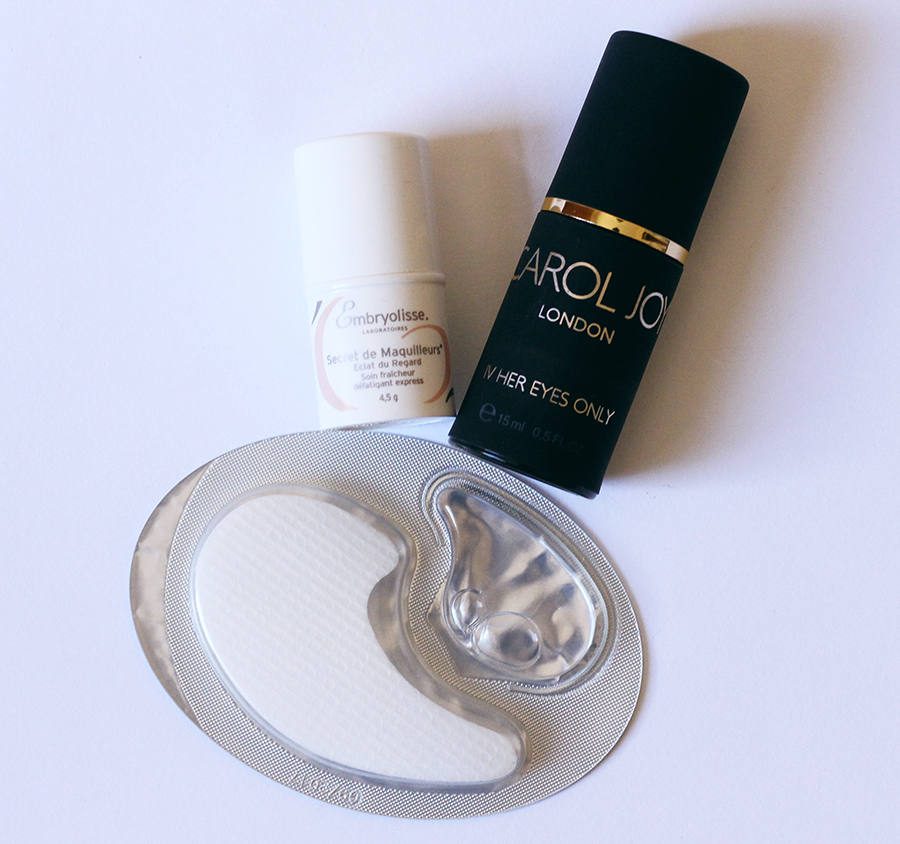 When my little brother, "stressed out by his homework", asked me to leave him a set of Carol Joy London's collagen eye masks, I couldn't blame him. If you suffer from bags under your eyes, then these are a quick, though temporary, solution to tired eyes. The IV Her Eyes Only eye cream is yet to impress me but I am sticking to it. Carol Joy London (based inside the Dorchester hotel) is all about collagen and anti-ageing, so I am sure their clientele trust in what they have to offer. I will be working with them in a few week's time and will report to you some more about their range. In the mean time, the Embryolisse Eclat du Regard is a more affordable alternative which leaves a cooling effect around the eye area. It is pocket size and I highly recommend carrying it around with you during the day.
MOISTURISERS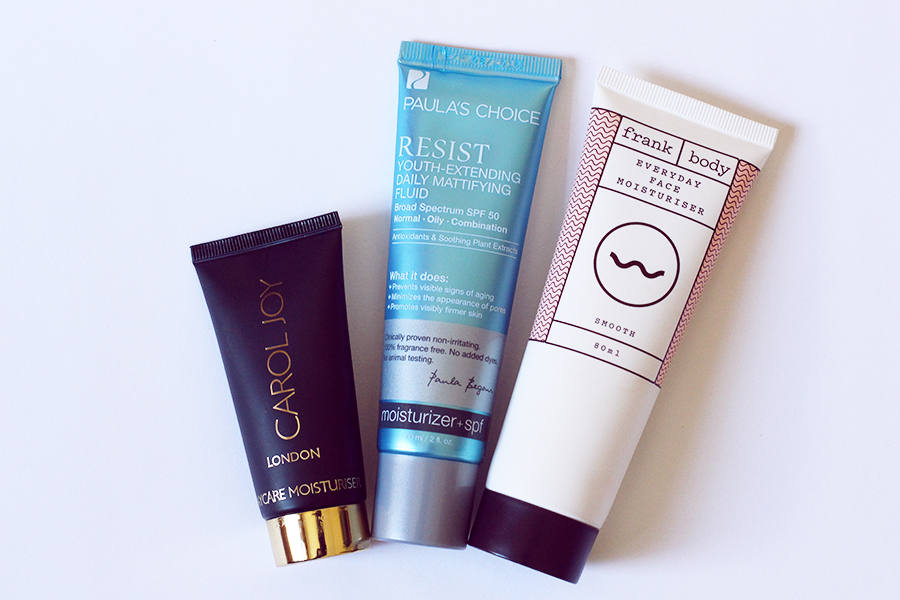 I have been very generous in allowing my face to be a guinea pig for moisturisers and I am yearning to go back to my Embryolisse Lait Creme Concentre but for now I have been rotating between these three moisturisers. Ok, make that two since I confessed earlier that the smell of the Frank Body Everyday Face Moisturiser is a bit too much for me. The Carol Joy London daycare moisturiser keeps me hydrated while Paula's Choice Youth-Extending Mattifying Fluid comes highly recommended if you spend time out in the sun. It is a moisturiser with an SPF50 , is anti-ageing and is suitable for Normal, Oily and Combination skin. This one, I am using sparingly and will use more when I am in the sun.
SPRAYS & MISTS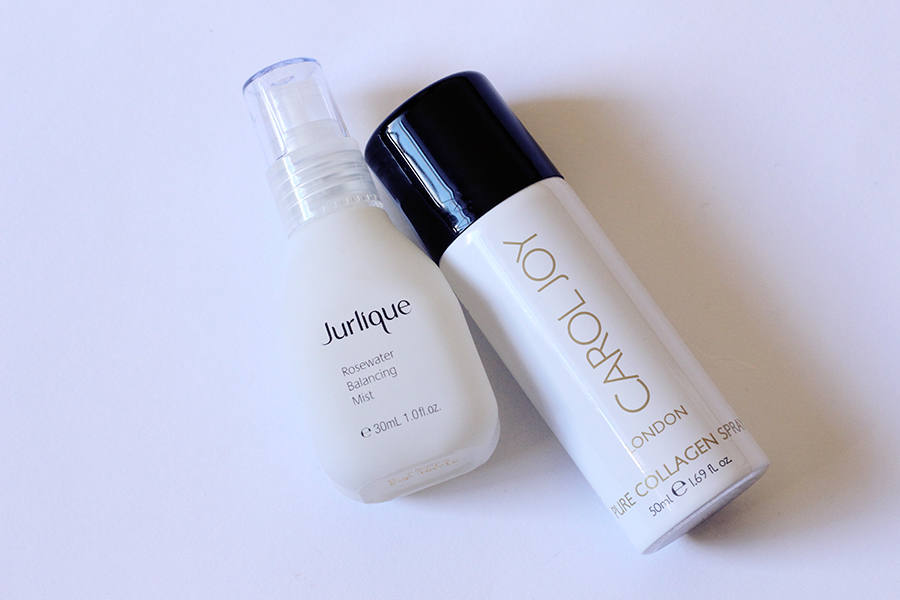 Never one to care about sprays or mists unless it is coming from a restaurant fan on a hot summer's day, I am falling hard for the Jurlique Rosewater Balancing Mist. First off, its smell is what dreams are made of and second, it leaves skin feeling dewy. The Carol Joy Pure Collagen Spray is better used as part of their entire skin care range and frankly, unless crows feet are knocking at your door, you won't be in a rush to add it to your skincare ritual because it is pricey.
MASKS
Products with a rose ingredient have become a favourite of mine since the end of summer and seeing as the Fresh Rose Face Mask is the only mask I have at the moment, I plan on keeping it that way for another month. Having no prior knowledge of this brand, I am happy to read that this brand's products are made from soy, milk, sugar and rice. I was planning on making it a Sunday-only mask but I think it deserves to be used twice a week.
There you have it folks. Report back to me in a month or two and let's see who stays, who gets kicked to the curb and what new product I will be coveting next !
SHOP THE PRODUCTS BELOW: